Every Container We Sell Comes with Our Guarantee
Delivered on Roll-Off Trailers by Professional Local Haulers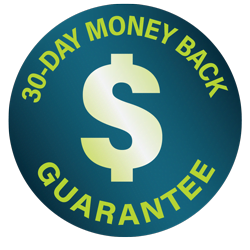 PLEASE NOTE: Our Container Warranty
Container Warranty Does Not Cover Contents
Inspect your container upon delivery. Please note that the warranty only covers the structural integrity of the container and does not cover contents or cosmetic issues (such as dings/dents or surface rust). Please inspect your doors, floors and roof prior to using your container.
Money Back Guarantee Does Not Include Trucking
We understand sometimes plans change, but please note that returned equipment will be refunded less trucking charges (including the additional cost of picking up the container and returning it to the intermodal depot). Please feel free to contact us with any questions.
Customer Pick-up Units Must be Returned for Repairs
If you are picking up your own container, or sending a truck, it's very important to inspect the container prior to leaving the depot (containers can be rejected if they don't meet the criteria listed for our warranty). Units that we don't deliver must be returned for warranty work to be completed.
Doors that seal: 
Every container we sell is guaranteed to have doors that seal properly, with gaskets in working condition.
Please Note: Loading containers heavy on one side, or setting them on uneven surfaces can sometimes cause doors to not line up properly. Even surfaces that look flat may have enough slope over 20′-40′ to twist the container just enough to make the doors not line up. The best way to ensure your doors are square is by placing wood blocks or railroad ties under the door frame (please have these ready at delivery, not provided by the driver).
Please ensure your doors are aligned prior to contacting us with warranty concerns.
No Leaks: 
We guarantee your container will be leak free at delivery, or we'll fix it. We'll guarantee your container won't leak for the term of the warranty (does not cover contents, customers should inspect containers for leaks regularly). Because containers are stacked both on ships and in storage, sometimes you'll see dings and dents on the roof. If water pools, that dent will turn into a rusty hole. Small holes can usually be repaired with caulk, while larger holes may require a patch. The best way to prevent this is to check your container regularly and paint the roof with a paint formulated for use on metals.
Floors Free of Holes: 
A cargo-worthy shipping container is designed to hold cargo in excess of 40,000 lbs., and while storage grade containers (WWT) may not quite meet that standard, we will guarantee that floors are free of holes or soft spots and ready to be used. Please note, the best way to prevent holes or soft spots in the floor is to keep your container out of standing water so the steel cross-members under the floor don't rust out.
PLEASE NOTE: Cosmetic Appearance Not Covered - Used Containers Have Rust
Shipping containers are made of steel and anything more than a year or two old will have some surface rust. If you can't have any visible rust, you should purchase a One Trip container. While our guarantee covers the doors, floors and roof, we do not cover cosmetic issues such as rust or faded paint, or patches on used containers. All CWO and WWT containers will have at least some visible surface rust. Because the containers are made of 14-gauge or 16-gauge steel, a little rust is not an issue if properly managed. Make sure to pressure wash and paint your container every few years to make the steel last.