Description
40ft Cargo Container Sales
Our 40 foot steel cargo shipping and storage containers have an outside dimension of 40′ x 8′ x 8.6′, making them an excellent choice for portable onsite storage. Our 40ft cargo Container sales feature:
Frames constructed from 8' gauge steel
Body construction of 14' gauge steel
One-inch thick wood floors
Our containers are an ideal choice for short term or long term storage space. These are suitable for building supplies, commercial use, home use and much more. Our containers offer secure storage too.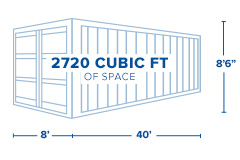 | Exterior | Interior | Door | Capacity |
| --- | --- | --- | --- |
| Length: 40ft. | Length: 39ft. 5in. | Width: 7ft. 8in. | Gross: 66,139 lbs |
| Width: 8ft. | Width: 7ft. 8in. | Height: 7ft. 6in. | Payload: 57,759 lbs |
| Height: 8ft. 6in. | Height: 7ft. 10in. | | Tare Weight: 8,380 lbs |